Shopping Cart
Your Cart is Empty
There was an error with PayPal
Click here to try again
Thank you for your business!
You should be receiving an order confirmation from Paypal shortly.
Exit Shopping Cart
Monica Lammers (a.k.a. gypsumgirl)
Small Business Freelance Content Writer
Welcome to my blog!  
(Dedicated to all small and mid-sized business owners)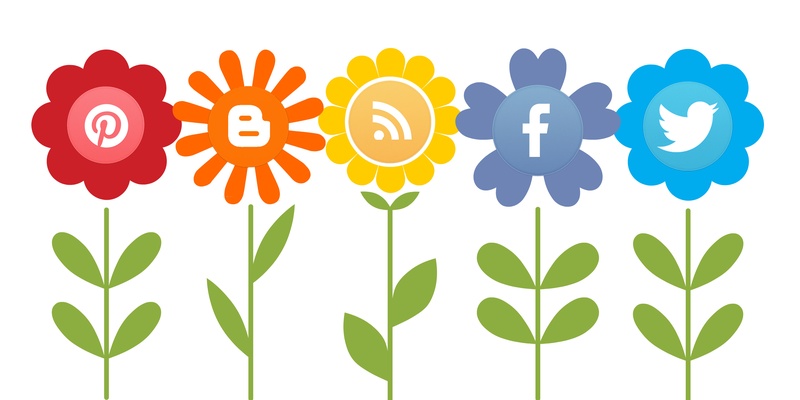 Small businesses do not always have enough human resources to manage an entire menu of social media network sites.  This leaves many of the companies in a catch-22.  They know it is best company practice to include social network presence in their business plan, however, they do not necessarily have the resources to get it done.  
One thing to keep in mind is that businesses do not have to be on every single social media networking website.  Each one actually caters to a different primary audience.  Companies with limited resources can select just one or two platforms to penetrate.  
In order to determine the best social network for your company, identify your primary target audience.  What demographic are you focusing on?  Who do your products and services appeal to the most?  Once a primary audience is identified, consider the social network user demographics and build your presence on those platforms.
Facebook
This globally popular social network reaches 66% of all online adults.  Facebook, by far, has the largest user base of any network.  In terms of demographics, it also covers the broadest range.  If your company appeals to a wide audience, then Facebook is a must-have.  Even a business with a narrow, niche audience can build a presence on this versatile platform.  Since people tend to spend more time on Facebook than any other network, it may be wise to have a Facebook presence regardless of the audience.
It is highly recommended that businesses use Facebook to stay in touch with their clients.  The best customer service stems from listening to the conversations out there and responding to them.  The network provides a great venue for companies to gather information, find out what people are saying about them, and making positive changes to improve their products and services.  It is best to make four to six Facebook posts a week to keep clients interested.
Twitter
If your company caters to a younger crowd, Twitter is a must-have social network for small businesses.  Over 27% of all Twitter users are between 18 and 29 years old.  Youngsters spend much of their time tweeting their likes and dislikes.  This has major implications for businesses that target the age group with their products and services.
Hashtags and location tags make it easy to organize conversations and find threads about the same topic.  Rather than announcing sales and trying to pull in customers, it is best practice to find threads of conversations about your business industry, or your company itself, and join in the conversation.  Build a relationship and attract people to your company rather than begging them to engage.
For companies looking into building a presence on Twitter, it is best to plan on sending out between eight and ten tweets a day to engage with potential customers.  This can be time consuming, but certainly well worth it.
LinkedIn
For companies looking to engage with customers who are middle-aged and well educated, LinkedIn is the place to go.  Although only roughly 20% of Internet users are currently registered, the ones who have accounts are actively engaged.  About 47% of LinkedIn users are 30 - 64 years old, and 34% of the total population earn $75,000 or more annually.  Over a third of them have earned a college degree.
LinkedIn is a perfect platform for companies who have a highly educated, business-minded audience.  It is also great for businesses who need to network with others in the industry.  The network allows you to share information and ideas about the industry with others who have an investment in the same field.
Pinterest
If your company targets women, Pinterest is a network that you need to build a presence in for success.  Only 12% of all online adults use the visual network, but almost 20% of all online women have a board.  Small businesses such as restaurants, designers, artists, and craftspeople have built a niche on this image-based social network.
As a place to share visuals, small businesses can easily post photographs depicting their products and services.  They can also post pictures that align with their business philosophies.  Pinterest is the ideal place to build your brand, highlighting images that represent your company.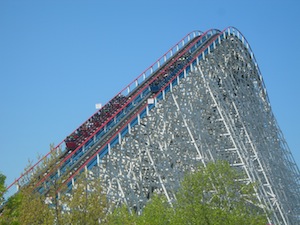 Are you riding the small-business rollercoaster?  Every small business owner does.
Here's how things typcially go...
You have the urge to quit your boring day job and branch out on your own.  Ideas start flashing through your head and you decide to start your own business.  This gives you your first journey up the tracks -- the anticipation just kills.  You get everything lined up and you're ready to launch.
Your built-up excitement is smashed almost immediately when you cannot figure out why nobody notices your new business.  This is the first dip of your rollercoaster ride.  You have a target audience, but you haven't figured out how to reach them yet.  Research is now in order and you figure out that you need to try to find clients on social media networks.  After all, that's where everyone hangs out these days.
This realization is the start of the next incline -- this time, the climb is even higher and more exciting.  You sign up for Facebook, Twitter, Instagram, Pinterest and anything else you can think of.  Followers start to slowly build and things are starting to look better.  You even gain a few "likes" out there in the online world.
Word starts to get out and you begin to build up a following.  Your products and services are flying off the shelves and delivered with the highest quality.  That's the good news.  With good news comes the bad.  Overwhelm starts to set in and all of a sudden, there is so much to do that it is difficult to keep everything straight.  Here coms the next dip.
With this second dip comes the consideration of some "must-have" small business tools that will help you take away the overwhelmed feeling and get things organized.  These tools have helped many small businesses start back up on an incline once again.
Google Analytics.  A small business usually does not have enough human resources to dedicated a worker to tracking website progress and effectiveness.  Google Analytics is a tool that can be used to track traffic to the website.  The information presented can prove to be useful in that it gives owners an idea of who is visiting the website, where they are coming from, and how often they are landing on the pages.  The information collected can help inform adjustments that need to be made to take the business to the next level.  This statistics tool is helpful for monitoring the small business' website.
Dropbox.  When human resources are lacking, small business employees generally wear multiple hats in the organization and perform multiple tasks.  Dropbox is a storage tool that helps assure all important documents can be accessed by multple people through the use of a variety of devices.  Micorsoft Word documents, for example, can be stored on Dropbox and accessed using a desktop, laptop, tablet, or mobile phone.
HootSuite.  When there isn't an employee dedicated to posting information on social media networks, the task can fall to the wayside and be forgotten.  HootSuite allows users to write up their communication ahead of time and schedule for delivery in the future.  It will post communication on such platforms as Facebook, Twitter, Instagram, and others.  Images and videos can be attached and delivered as well.
OmniFocus.  When each person in a small business has to juggle multiple tasks and work on a number of projects simultaneously, OmniFocus can be used to keep everyone organized.  This organizational tool helps gathers information, organizes it, and allows access from multiple devices.  The data collected can range from meeting locations and times to stream of consciousness thoughts.  This tool proves to be a huge timesaver for employees and they can avoid losing sticky-notes and to-do lists.
Trello.  When a limited staff is busy with multiple projects, it can be difficult for them to find time to sit down and meet with one another on a regular basis.  Trello is a collaboration tool that might help small businesses organize their projects.  The projects are essentially organized into three categories -- pending, in-progress, and completed.  With Trello, everyone can stay on the same page.
Without a doubt, small businesses need tools to help them run efficiently and continue to draw in new customers. With limited staff, things can get difficult.  To avoid getting stuck in a dip, consider implementing these five must-have tools.  They can potentially help move your business onto the next incline and take to whole new levels.
There are many eye-catching, wildly-engaging websites out there on the Internet, and then there are those that come across as blah, to say the least.  There is a fine line between too much visual stimulation and not enough.
Take a moment and go back to your website and ask yourself...is there too much going on or is it extremely dull?  Usually, small business websites sit somewhere in between.  In order to make sure you have just what you need on your website -- not too much and not too little -- consider the 10 elements suggested below.
1.  A simple, informative website address.
One of the biggest mistakes website SMB owners make is giving it a fancy name and address.  The best ones provide the business name and maybe, if it doesn't make the address too long, what it does.  The best way to think of your website name and address is to think about your brand.
If at all possible, it is best to use a .com address, as that is what people are accustommed to typing in for businesses.  They have trained their brains to process businesses as .com entities.
2.  A clear description.
Directly on the home page, make sure you are providing readers with a clear summary of the products and/or services your company provides.  Make sure the description is quick and easy to read as people will click away from and abandon websites that are too wordy.
Beyond the summary, it is a good idea for you to include a clear, detailed description of your business in the About section.  One thing that you want to make sure you do with the About section is to include as "you" as many times as "we".  This means that rather than saying, "We can redesign your kitchen for you," it sounds better to state, "You can depend on our expertise to design a kitchen that meets your needs."
3.  Contact information that's easy to find.
Make sure it is easy for customers to contact you from any page of your website.  Ideally, there needs to be links to the contact page from every other page.  This will make it easier for customers to get in touch with you.  If contact information is hard to find, customers are apt to abandon your website and land on a competitor's instead.  Unfortunately, with customers expecting on-demand service, it is easy to lose customers if contact information is hidden away on a secondary or tertiary page.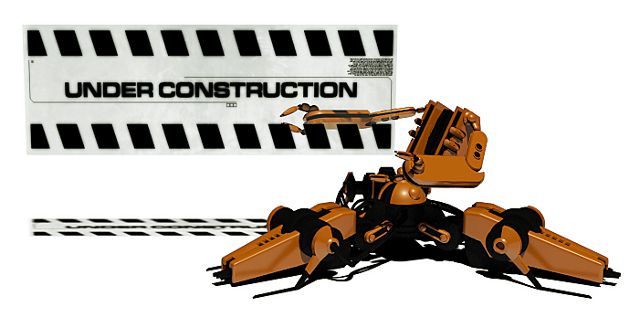 4.  Pages that are easy to navigate.
It is important for customers to be able to navigate through your website efficiently.  They do not want to spend a whole lot of time clicking through the same pages in circles to find something.  They need direct access to all the pages from every other page so they can go back and forth seamlessly.  Taking the time to clearly lay out the site's navigation map is very worthwhile.  The less clicks to get to information, the better.
5.  A call to action.
With so many competitors in the market, it is important to include some sort of call to action on the home page.  The action could simply be signing up for a free quote, downloading online coupons, or checking out the sales and discounts.  When these calls to action are highlighted in colorful letters or placed on buttons, customers are more apt to click on them.  By all means, make them stand out from the rest of the page.
6.  Customer testimonials say it all.  
People listen to others, whether they know them or not.  Customer reviews and testimonials will go a long way when people are trying to decide whether to give your company a shot at business.  The testimonials help you build trust with your current and potential clients.  Besides, people always want to hear stories from others so they can compare their experiences and tell their own as well.  By nature, people are social that way.
7.  Fresh, updated content.
Don't let your content go stale.  You can quickly lose clients if your website sits and is not attended to regularly.  Your website is often the first impression people get when they are considering doing business with you.  A regularly updated blog can be enough to keep customers coming back.  It is important, however, to also consider switching up some of the articles and content on various webpages as well.  New information added on a regular basis will keep customers engaged for longer periods of time.
8.  A reader-friendly style and layout.
Most Internet users have very short attention spans and want to be engaged while they are on your website.  They want to navigate through friendly layouts that are easy on the eyes.  Make sure the different items on your page are easy to read and the information is laid out so that the readers' eyes flow smoothly from item to item. 
When readers first arrive at a website, they tend to scan the page first before zeroing in on certain information.  This is important to consider as it would imply that colored and different-sized text need to be used to highlight different segments.  Readers enjoy short paragraphs with headers, bullet points, and important words that are bolded or highlighted somehow.
9.  Know SEO basics.
It is very beneficial for you to know your SEO basics.  Getting on the first page of search engines can make a huge difference.  It could even make or break your company.  The correct keywords need to be used, along with plenty of links.  Images and videos can also help drive more traffic to your company's website.
10.  Find a secure hosting platform.
All your content needs to be secure, as well as potential client infornation that may be stored on the website.  It is crucial to find a trustworthy hosting company to present your website.  Staying one step in front of the hackers is always a good idea.  You don't want to lose customers because they don't trust your IT or content management system.
With all these elements in mind, it is perhaps time for you to reconsider your website and see if you need to refresh it at all.  Is it time to give your online presence some attention?  Let me know if you need any help!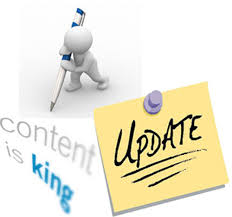 Picture the following scenario:
You started your online business a year or two ago, or you created your first corporate website during that time.  Your website was state-of-the-art at the time, attracting potential customers and adding to your clientele list.  Your revenue rocked for a period of time -- enough to make you evolve into what you are now. 
Currently you are just plodding along and things seem to be flat.  You're not really sure what has gone wrong.  Your lines of products and services are still selling well, but there seems to be no new customers.  The returning ones are interacting less and less with your website, only visiting when there is a dire need.
One thing you may want to consider is updating your website's look and content.  Many stagnating businesses tend to give their websites a new facelift, using bolder styles and louder colors.  Business owners, however, don't always think about changing up their content.  Updating website content is important, especially if the company has evolved over the last couple of years.
Many people spend the bulk of their lives on the Internet.  They find information, shop, bank, conduct business, and connect with friends as they cruise the World Wide Web several times a day.  In fact, people are spending more time online on their computers or mobile devices than watching television.
An added bonus for keeping your website content updated is if you are evolving with search engine algorithms, you will continually find yourself at the top of the search list.  That's what bringing customers to your website is all about!
When it comes to website content, there are two types -- static and dynamic.
Static Content
The static content on your website is "evergreen" and does not need to be changed regularly.  The sections of your website that fit this bill include the About and Contact pages.  The information found on these pages do not necessarily change.  There is usually no changing the About page since the information is likely a part of past history.  There may be occasional changes if the company takes a turn in what it delivers to customers.
Dynamic Content
The dynamic content on your website is everythign else.  As your products and services evolve, your content needs be updated at the same time.  The important factor to consider at all times is the relevance of the content.  It is imperative for the content to be relevant to customers.  When website is updated frequently, customers will continue to return as they are curious about what might be added.
It is also important to consider changing up the type of media you have on your page.  Text only websites do not engage customers and they will not stay on your page for long.  Consider including pictures, videos, and infographics to rejuvinate the website.
An added bonus for updating website content is to evolve along with the major search engine's algorithms.  If you want your business to consistently land on the first page of a Google search, then content on your website needs to be updated according to the search engines evolution.  This will bring more customers to your business rather than allowing it to stagnate.
If you are interested in updating your website content and would like to work with a freelance writer, click here and fill out a no-obligation contact form and I would be happy to provide you with a quote.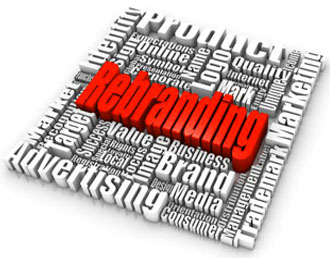 As with all things, it seems, websites go stale after a while.  They need updating just like everything else.  Rebranding a business is one way to bring it up to date.
If you are a business owner, take some time to look at your webpage copy.  Has your home page been updated lately or does it still have the same background style or theme since the very beginning?  Take a look around at your competitors and see if others in your industry have updated their websites and note what they have done.  
In the digital world, things change very quickly.  Website design is no exception.  Perhaps it is an opportune time to rebrand your business as you redesign your website.
After considering your website, reflect on the print materials you distribute to current and potential clients.  Do they need to be updated with new copy and photographs as well?  Have you been updating your marketing materials as your company has evolved over the years?  It might be time to give your printed copy a major overhaul to match your rebranded website.
If you are considering rebranding your business, click here for a non-obligation quote for any copywriting you might need to breathe fresh air back into your company.
/